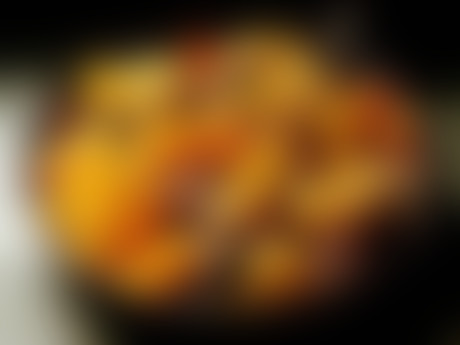 Beef and Vegetable Stew with Crusted Onion Dumplings
"Here is a good old-fashioned family stew – good meat and good vegetables simmering gently and slowly together, and in this slowness releasing precious juices that mingle to provide intense yet mellow flavours and the tenderest of textures. Let's not be duped into thinking we don't have the time.This stew actually takes very little time – you'll be amazed. The time it does take is not yours. Tucked away in the oven, it will leave you free to go out for a couple of hours if you want to, ready to greet you with evocative, comforting aromas when you come home. I have included some dumplings in this recipe (because I like them!), but even without them it is perfectly good. Because our stew is going to have a long, slow cooking time, make sure, when you prepare the ingredients, that you cut everything into large chunks: if they're too small they'll tend to disintegrate. The very best meat to use is shin of beef, which has a lot of gelatinous connective tissue that is rendered down during the long cooking to give lots of depth and flavour. Most beef labelled 'stewing' contains shin."
Nutrition per serving:
| | | |
| --- | --- | --- |
| Calories | 941.89 kcal | 47% |
| Fat | 28.84 g | 41% |
| Carbs | 92.32 g | 36% |
| Sugars | 16.19 g | 18% |
| Protein | 68.81 g | 138% |
| Sodium | 862.82 mg | 43% |
| Fiber | 16.35 g | 58% |
Percent Daily Values based on a 2,000 calorie diet.
Ingredients
3 lb (1.35 kg) stewing beef or shin of beef, cut into 2 in (5 cm) chunks
12 oz (350 g) butter beans, soaked in cold water overnight and drained
salt and freshly milled black pepper
8 oz (225 g) carrots, peeled and cut into 2 in (5 cm) chunks
8 oz (225 g) celery, cut into 2 in (5 cm) chunks
8 oz (225 g) swede, peeled, cut into ½ in (1 cm) slices, then into chunks
6 small onions, weighing about 12 oz (350 g), peeled and left whole
4 sprigs fresh thyme
2 oz (50 g) plain flour, seasoned with 1½ level teaspoons salt and some freshly milled black pepper
1¼ pints (725 ml) premium dry cider, such as Aspall's Dry Suffolk Cyder
1 tablespoon Worcestershire sauce
1 small onion, peeled, finely chopped, then sautéed in groundnut or other flavourless oil until brown and caramelised, then left to cool
8 oz (225 g) self-raising flour
1 heaped teaspoon mustard powder
4 oz (110 g) shredded suet
1 level tablespoon snipped fresh chives
salt and freshly milled black pepper
Sign in to save any recipe in the world and get personal recommendations